Listing of the token on the WhiteBit exchange , assistance of the ZSU in the form of a special token, content monetization and the ability to track only what you like. These are probably the main theses that can be made before starting to talk in more detail about the Sl8 project .
Let's start with the fact that Sl8 is a Ukrainian project whose CEO is Dmytro Ivanov, he is also the founder of Cassator Corp. Nowadays, this is sometimes a priority characteristic when choosing any service or program.
To register on this network, you will need an invitation or a special code ( T3FHsa ), without which you will not be able to register. The network can be used on a PC , there are applications on the market for Android and iOS. The best option would be mobile applications, since the WEB version has limited functionality, at least some functions did not work for me, I could edit my profile only on the phone, as well as add a "layer". Plast is your themed boards. Roughly speaking, these are your groups on certain topics, you can create no more than 7 of them. Other users can subscribe both to you and individually only to your layers (groups), so we receive only the content that interests us.
In general, the interface is pleasant, but without frills, created according to standard wireframes familiar to everyone from other social networks. Therefore, you will have no problems with navigation, everything is clear after 5-10 minutes of using the network. But it is worth paying special attention to the crypto wallet, because it is not an ordinary social network, but a crypto network. Therefore, we immediately go to our wallet and see several denominations of coins in it, and some even have a certain amount of them.
The Sl8 wallet is built on the Stellar blockchain . All transactions will be conducted on this network only.
What about coins? We have as many as 6 of them, these are:
SSLX (StarSlax) is a native Sl8 token backed by Cassator Corp. capitalization. This token will be on the WhiteBit exchange . You can get this token as a reward for your content from other users. You can buy it now in the Sl8 app . There are currently 9,000,000 tokens available for sale until August 2, 2022. (sale of tokens to citizens of Russia is PROHIBITED!)
The price of 1 SSLX is $0.0065691 on (26.07.2022)
USDC is a 1:1 USD-pegged token designed to hold your assets in a stable currency.
SLX (Slax) is a dollar-pegged coin with a value of 100SLX – $1, created just like SSLX to encourage and reward content creators. It can be bought and sold.
UAF (Ukrainian Army Forces Coin) The coin of the Ukrainian Army Forces is made to strengthen the Ukrainian Army Forces. All proceeds from the sale will be transferred to the current needs of the Armed Forces. Funds are currently being collected for prosthetics projects and creation of physical and psychological support for the wounded and their families.
XLM (Lumen) is the native currency of the Stellar blockchain, acting as an intermediary for exchange between different currencies.
BSLX (Bslax) is a coin that cannot be bought, sold or exchanged, 1000 coins are credited upon registration. Coin can also be received from users as a reward for your content.
If you intend to buy more than $1000 worth of tokens, you will have a special badge in your profile, an NFT and a physical copy of the badge made of 999 silver. And investors who are ready to buy more than $10,000 worth of tokens, in addition to NFTs and profile badges, are waiting for a golden copy of the badge from the 9999th sample. You can read about it in more detail on the token purchase page in the "Buy SSLX" section .
So, summing up the section about the wallet, we can say that here you can store your assets, multiply them by creating content or simply on the course, or give to charity and as a thank you for interesting material.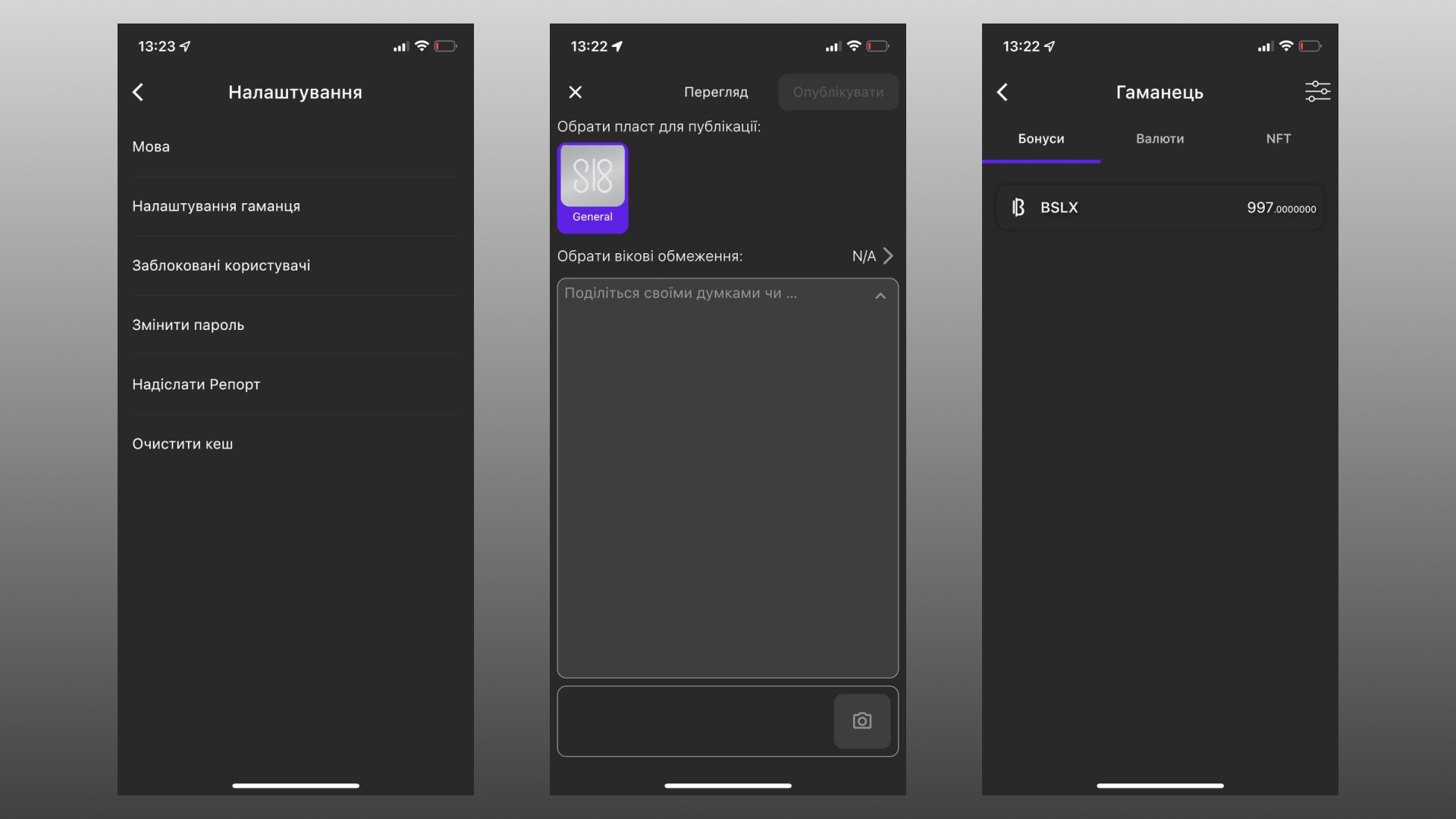 The following menu items are available for the user to search for content: Subscriptions feed, Recent and Opening.
"Subscription feed" is what you have subscribed to, only the information you are interested in will be here.
The "Recent" section is an endless list of layers from all users, published at the moment from the newest to the oldest. You will find all the latest here. And here is the chapter
"Discovery" inside is divided into several subdivisions. There you can sort all layers by the following criteria: Month, Week, Day, Hour, Likes, Monetization, Comments. That is, you will be shown the most popular layers according to the criteria you set.
Currently, the project is still marked as a beta test, but almost every day the CEO announces some new products. A lot still needs to be done, for example, add your video and audio services, personal messages, a more advanced search, a photo editor, support for additional networks, and so on. We hope that the project will develop.
This has already happened in Ukraine more than once, Ukrainian social networks have already tried to enter the market. The only difference from its predecessors is that there is a crypto wallet with a coin that is already traded. Global recommendations are not filled with 18+ photos and mutual likes, which is good, but they are also generally not particularly filled with interesting material. The reason for this, most likely, is the situation in our country and the lack of a serious marketing program. Perhaps the listing on exchanges will raise interest and there will be a new influx of users, but we will just register and watch, buying some SSLX and UAF (not a financial recommendation).