NFT technology breaks new records every year. According to DappRadar, total NFT sales will reach $25 billion in 2021. Snoop Dogg, Paris Hilton, Eminem, Lindsay Lohan and dozens of other celebrities have joined this market and created their own non-fungible tokens. NFT is the art of the 21st century. However, in order to monetize these unique digital assets, it is necessary to choose the right platform for hosting, as well as to engage in marketing. We will talk about how to do it properly later.
NFTs are digital assets stored on a blockchain (digital ledger). Each NFT is non-fungible, meaning it cannot be exchanged for another asset of similar value. Common NFT assets include images, videos, music, GIFs, and collectibles. An NFT can only have one owner until they sell it to someone else. Even if someone copies the non-fungible token, the current ownership of the original file will remain with you.
NFTs require the production of digital tokens using a cryptographic approach. Coining is a term used in the cryptosphere to describe the process of creating tokens. Usually, in order to mint NFTs, it is necessary to pay a certain amount in crypto for the creation of smart contracts.
Smart contracts are pieces of software code that allow the blockchain to store data securely and transparently. These codes are responsible for ownership and transfer of NFTs.
We've covered what NFTs are, so now let's talk about how to sell them.
💸 How to sell NFTs: 7 steps
Your sales journey begins with choosing a platform. There are several options available: online marketplaces (OpenSea), direct-to-consumer platforms (Shopify). The choice of platform usually depends on the type of NFT you are selling and the commission associated with trading the cryptographic asset.
So let's take a look at some of the platforms and what they offer NFT traders:
🦑 NFTb is the first NFT digital art and merchandise marketplace built on the BNB network. As a creator, you can show your priceless piece of digital art to the world by linking it to a non-fungible token. By doing this, you gain the ability to maintain its authenticity through the blockchain, as NFTs cannot be altered or reproduced. 
All transactions on NFTb are carried out using the BNB Chain network. BNB Chain has some of the lowest fees and transactions are processed much faster than ETH. Producing an NFT during peak congestion on the ETH network can cost the creator $150 (not including sell transactions), while it can cost less than $1 on the BNB network.
🦑 Binance NFT is a great platform that allows you to sell immutable tokens from different categories. This NFT market supports two blockchains: Ethereum and Binance Smart Chain (BSC).
Binance charges a flat trading fee of 1% to all NFT creators and sellers, the lowest in the market. Additionally, sellers pay a 1% royalty if the NFT they own is created by someone else.
Binance NFT has a number of advantages, including placing an offer to buy NFT at a fixed price, many convenient filters to find the NFT you need, integration with Binance Pay and others. You can find out more at the link .
🦑 Shopify , a popular e-commerce platform, started working with NFT sellers in July 2021. Shopify's infrastructure allows creators and resellers to offer D2C (Direct-to-consumer) through a branded storefront. Instead of using a marketplace, each NFT creator can sell digital assets directly to the customer.
Shopify also has other benefits. For example, NFT merchants can accept debit cards, credit cards and mobile payments through their store. Shopify also has its own payment gateway called Shopify Payments — merchants don't pay fees for transactions processed through that gateway. You can also add alternative payment methods such as cryptocurrencies. Shopify supports popular blockchains: Ethereum, Flow, Near, and Polygon, to host and sell NFTs.
🦑 OpenSea is the world's largest digital marketplace for buying and selling NFTs. It supports two popular NFT standards: ERC-721 and ERC-1155 tokens. Sellers can choose between Ethereum and Polygon when listing their NFTs on the market. OpenSea trading fees are 2.5%.
The next step is to create a wallet. Download the MetaMask, Trust Wallet, Wallet Connect, or Math Wallet mobile app to use as a crypto wallet.
(Add the Chrome wallet extension to your browser: this way you can access your crypto wallet on both your phone and computer, making the process of minting, validating, selling and interacting with the community much easier).
Top up your wallet. To mint tokens, it is necessary to have at least 0.003 BNB in ​​the crypto-wallet account.
We will use the NFTb platform to explain the next steps.
💎 Register as an author on NFTb. Include a profile photo, bio, cover image, and links to your website and social media.
💎 Upload your artwork. Upload a file – PNG, JPG, WEBP, MP4 or MP3. Depending on the file format you are uploading, you will need to add an image as a cover image.
💎 Fill in the information about the work – title, description and royalty %. Don't ignore the description, as it will help attract a potential buyer.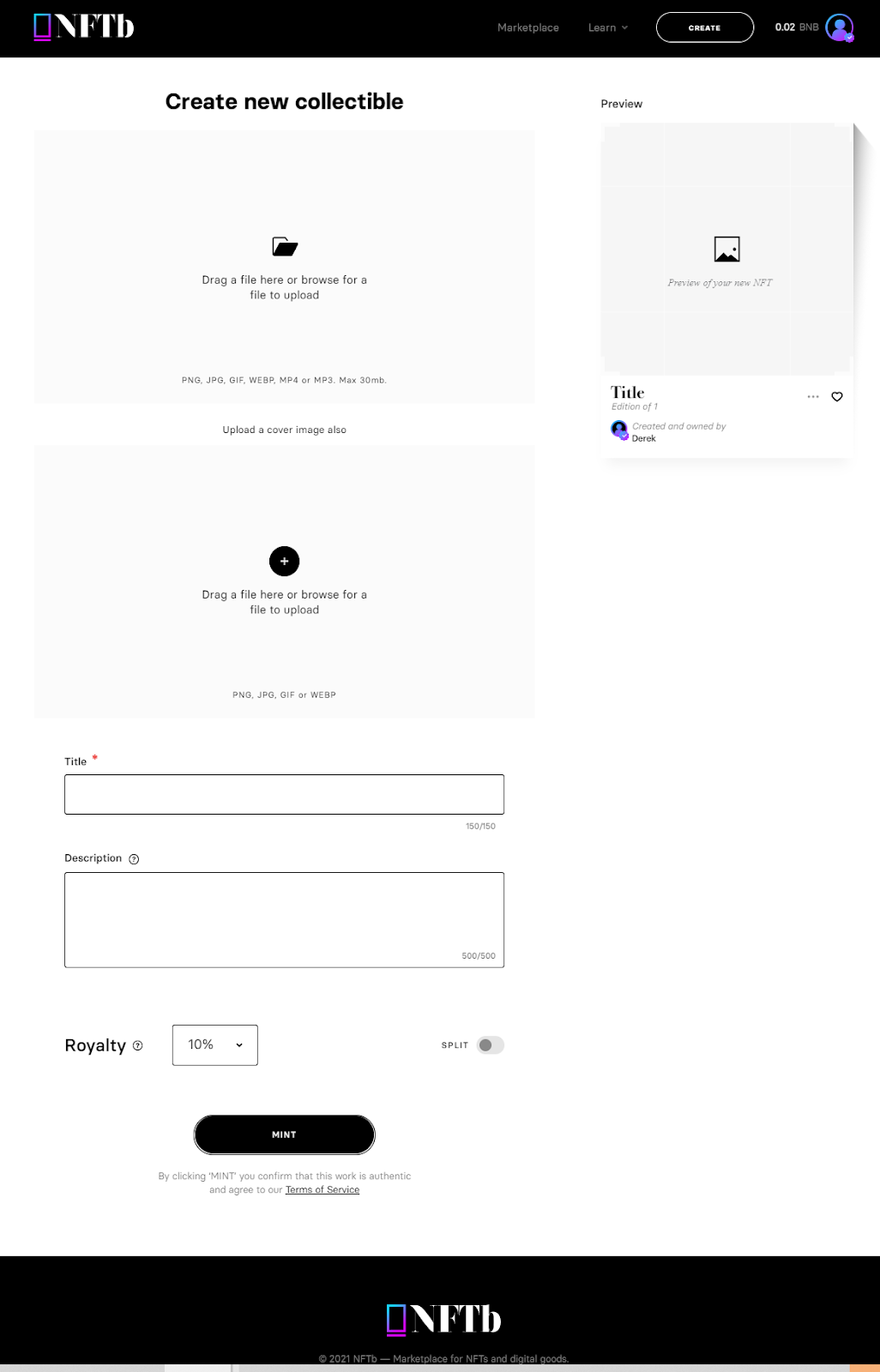 💎 Confirm the transaction. To confirm the transaction, you need to go to the wallet. Click the Confirm button to pay the gwei fee, which will be a few cents.
💎 Your NFT is created. It is now available on the blockchain and you can view it on bscscan.com and IPFS.
Sell ​​NFTs. After you download the NFT, keep an eye out for offers from potential buyers. Although most platforms send notifications when someone bids to buy a non-fungible token, check the NFT status to make sure you don't miss any requests.
If you have chosen a fixed price and someone decides to buy the NFT for that amount, you will receive a notification that the digital asset has been sold and the cryptocurrency has been accepted into the account.
However, if it's an auction, you'll be notified of different bids. Additionally, buyers can submit private offers where they offer a certain number to buy a non-fungible token. Be careful, as the bids can sometimes be lower than the minimum bid you set (such bids are usually sent by bots or competitors trying to cash in on other people's work).
🤔 What should be considered when selling NFT?
At first glance, selling NFTs seems straightforward, but there are many things to keep in mind. We will talk about them.
If you think that just creating NFTs is enough to get rich, then you are wrong. It's imperative to engage with your audience on social media and promote your digital artwork. It will be easier for you to sell non-fungible tokens after personal communication with experienced buyers.
If you don't want to spend extra money on fees, then choose a platform with a low "gas fee". As mentioned earlier, the Ethereum blockchain requires a much larger "gas fee" payment. These fees cover the computational mining required for transactions on the ETH blockchain. In other words, users have to pay for the electricity that powers these machines when they make your cryptocurrency transactions. On the NFTb platform, a transaction can be 35 times cheaper than the Ethereum NFT markets, causing less damage to the environment.
There is no better source of information for mastering any innovation than a community of like-minded creators learning together — via Telegram, Twitter, or Discord. Learn from famous NFT makers, avoiding mistakes and learning wise ways to create and sell digital assets, staying on top of trends, insider knowledge and new opportunities.
💸 How much do NFTs sell for?
The average price of an NFT can range from $100 to $1,400, depending on its scarcity and popularity. In addition, fluctuations in the value of a cryptocurrency can affect the price of a non-fungible token. (For example, an increase in the value of Ethereum can lead to an increase in the price of an NFT based on it).
💥 How to correctly estimate the value of NFT?
There is a saying that an NFT is worth what people are willing to pay for it, but the truth is that there are a number of factors that affect the value of an NFT and how buyers will value your digital asset. They include:
Rare NFTs. Some non-fungible tokens have unique features that significantly increase their price. For example, in the popular Bored Ape Yacht Club collection, less than 1% of monkeys have laser eyes. If your NFT has a very rare attribute, then set a higher price for it compared to others that do not have a special attribute. NFT collectors will be happy to buy this.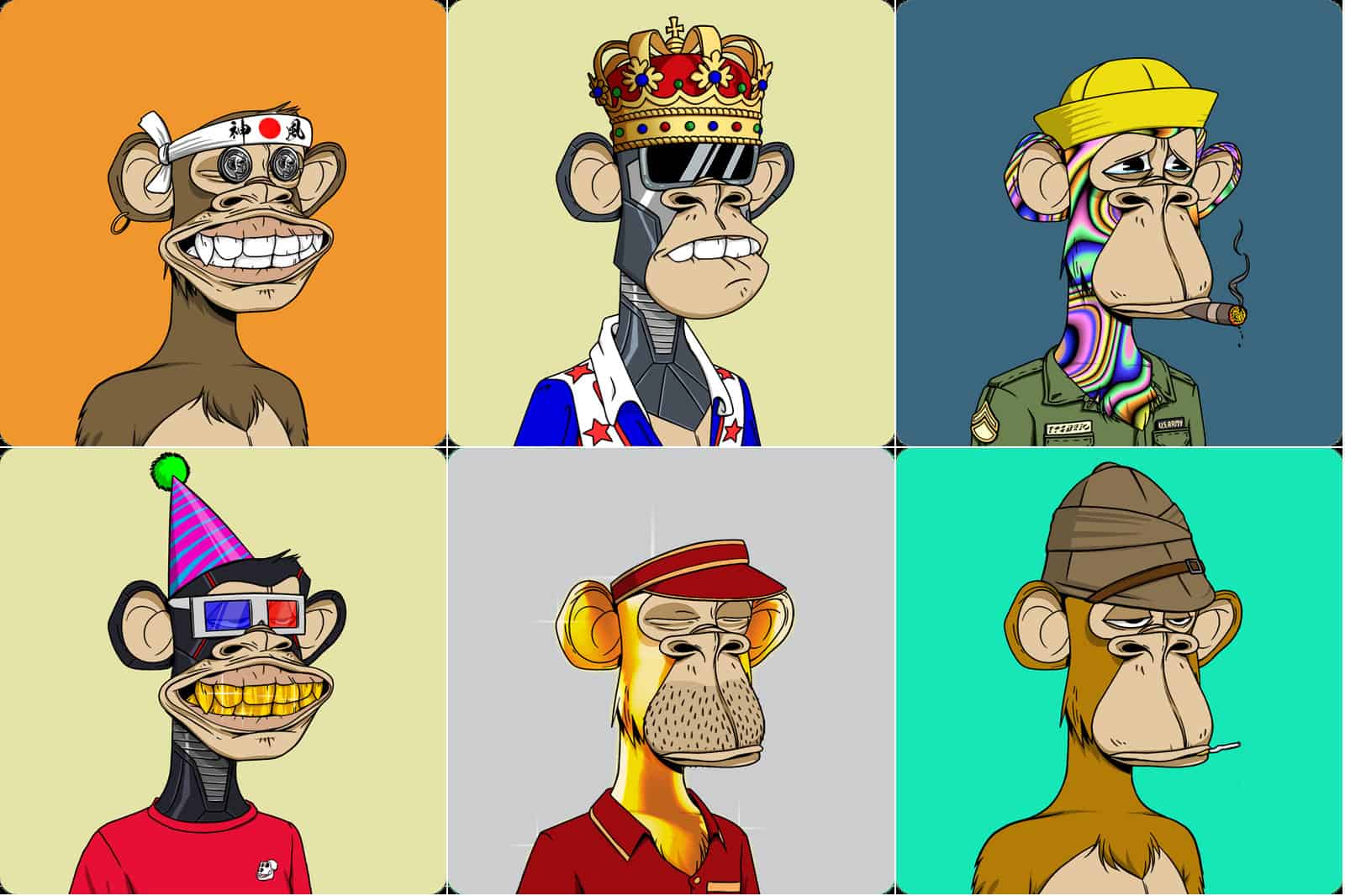 30-day average value of NFT. This is the historical price trend of NFTs in any category. Ideally, your price should be close to the average value of similar non-fungible tokens over the last 30 days.
NFT utilitarianism. Can buyers of your NFT be part of an exclusive club that receives additional benefits such as discounts on future purchases? Can your digital asset be exchanged for a virtual item in a specific metaverse or game? The utility of a non-fungible token determines whether you can demand a higher price for your NFT.
Popularity of the creator. Individuals who have gained a reputation and support in the NFT realm can demand higher fees for their digital artwork. Therefore, if you are a beginner with no sales history, it is better to start with the average value for 30 days and move up over time. So don't forget about marketing, promoting yourself as a creator as well as your NFTs.
Good luck!